Why You Need Green Tea in Your Anti-Acne Routine?
Green tea is undoubtedly one of the most loved natural ingredients in the world. It's delicious, calming, and an all-around health booster! But did you know that its benefits extend to beauty? Yup, that frothy green stuff in your Starbucks cup is also a proven anti-acne remedy.
Green tea's anti-inflammatory properties have been celebrated for centuries. When applied topically, it can pacify redness, combat breakouts, and improve your skin's ability to reject toxins.
Lucky for us, K-beauty brands have taken notice! In fact, Innisfree has a whole line that hinges on the power of pimple-fighting green tea. If you have spotty skin, these green tea recos should clear you right up.
1. Innisfree Green Tea Cleansing Foam
Toss out your harsh cleansers for this gentle green tea foam! It whisks away all traces of makeup and dirt to prevent bacteria from settling into your pores. At the same time, it manages your skin's moisture balance with an amino acid-rich formula.
2. Innisfree The Green Tea Seed Serum
A certified cult-fave in Korea, this serum can do no wrong. Harnessing the power of organic Jeju green tea seeds, it protects the skin by creating a strong moisture barrier. This serves as a shield against acne-causing germs. It also locks in hydration and maintains the overall health of your complexion.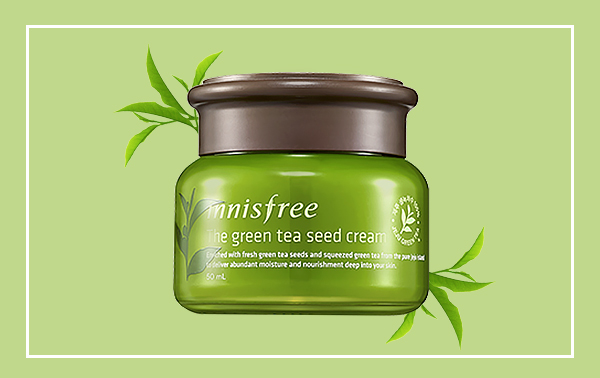 3. Innisfree The Green Tea Seed Cream
Most moisturizers will slip off your face in hot weather, but this light cream absorbs instantly. Its formula boasts of fresh Jeju green tea and seed oil. The surge of hydration they bring will fortify sensitive skin over time. As a result, you become less vulnerable to pollutants and retain more nutrients from your skincare. Stronger skin = less breakouts.
4. Innisfree Green Tea Sleeping Pack
This night pack guarantees a clearer, fresher face come morning. Like the moisturizer, it's also infused with green tea seed oil, which floods your skin with moisture. Thanks to its high antioxidant content, it relieves acne-induced redness so your breakout doesn't look as "angry." It also helps with moisture retention and texture improvement. In other words, expect a complexion that's soft and smooth from AM to PM.